In 1986 I started out as a freelance network news soundman. In the years since I've worked on film and video productions of all kinds: television shows, educational films, commercials, and documentaries. Today most of my work involves production sound for film and video documentaries.


I'm familiar with all formats (35mm, 16mm, HDTV, Betacam, and Mini DV) and I have the appropriate gear for any production.


My sound packages are custom-built around a Cooper CS104-4 channel mixer, a Fostex PD4 timecode DAT (with a Smart Slate), and a Sound Devices Mix Pre-2 channel mixer.


In my kit are Schoeps and Sennheiser boom microphones, Lectrosonics UHF frequency-agile, diversity wireless systems (with Sanken and Sonotrim lavaliers), and Lectrosonics wireless personal monitors.


I offer a variety of versatile production sound accessories, including high quality audio cassette transcripts with or without time code, wireless sends to camera, and a Sony PCM-M1 Walkman DAT recorder.


The Southwest is my bailiwick but I travel anywhere in the world with ease.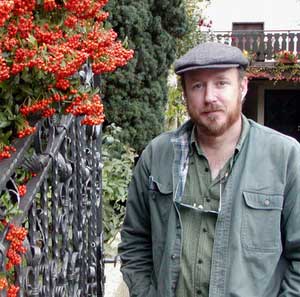 In Trittenheim, Germany for Food Network's
"Extreme Cuisine" shoot
Jim Gallup
p.o. box 624
Tijeras, NM 87059
home: (505) 286 - 8943
fax: (505) 286 - 8943
pager: (505) 875 - 4474
mobile: (505) 321 - 9162
www.newmexicosoundrecordist.com